On August 21, the Rio Olympics closing ceremony was held in Rio de Janeiro, Brazil. The Chinese delegation ranked the third in terms of medal tally with 26 gold medals, 18 silver medals and 26 bronze medals, after the United States and the United Kingdom.
This year, Hubei has sent 12 athletes and they have achieved a remarkable result: a gold, two silver and two bronze medals. The number of Olympic gold medals of Hubei now reached 23.
Gold medal  

Liu Huixia: Diving Women's Synchronised 10m platform
On August 9, the Chinese Huixia Liu and Chen Ruolin won the gold medal in the Diving Women's Synchronised 10m platform at Rio 2016 Olympic Games.
This is Chen Ruolin's fifth Olympic gold medal and the first Olympic gold medal of Liu Huixia, a young diver originally from Hubei province.
Silver medals 
Tian Tao: Weightlifting Men's 85kg
Tian Tao won men's less than 85kg weightlifting silver medal with a total of 395kg in Rio de Janeiro, Brazil, August 13, 2016. This is the second medal won by Hubei-native athlete at Rio Olympics. The first was won by Liu Huixia (in partnership with Chen Ruolin) in synchronized diving.
Tian Tao, born April 8, 1994 in Yichang, is 77-85kg men's champion in the Asian Games 2014 snatched the World Championships in 2015 at the same event.
Yin Chengxin: Synchronised Swimming Teams
On August 19, 2016, eight young swimmers of China's team including Yin Chengxin of Hubei Province, won the silver medal in synchronized swimming with a score of 192 points.
Yin Chengxin, born on 2 February 1995 in Wuhan in Hubei Province, has won two silver medals at the 2015 World Aquatics Championships, and one gold medal at the 2014 Asian Games.
Bronze medals

Zhao Yunlei:Badminton Mixed Doubles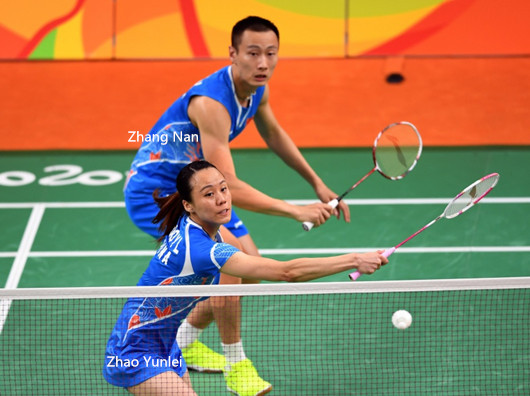 On August 16, China's Zhang Nan and Zhao Yunlei defeated their teammates Xu Chen and Majin and wo the mix doubles bronze medals.
Zhao Yunlei (born August 25, 1986) is a women's and mixed doubles badminton player from Hubei of China. She graduate BA from Huazhong University of Science and Technology. She is the only badminton player in history to win two Olympic Gold medals in the same Olympic edition, winning in both Mixed and Women's Doubles categories in 2012. She repeated this feat at both the 2014 and 2015?BWF?World?Championships. She is regarded by many as one of the best female badminton player in the doules event in the history of badminton alongside with former teammate Gao Ling. Zhao achieved massive success in both the Mixed and Women's Doubles category.
You Hao: Gymnastics Men's Team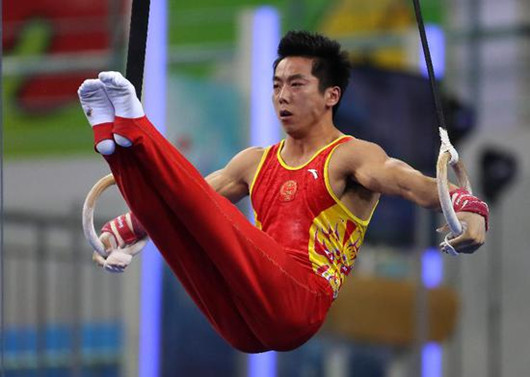 On 9 August 2016, 5 excellent athletes of Chinese team, including You Hao co-cultivated by Hubei and the Jiangsu provinces, was beaten by Japan and Russia in gymnastics men's team and won a bronze medal.
You Hao, born on April 26, 1992 in Xuzhou, competed for the Chinese national team at the World Artistic Gymnastics Championships in 2013, 2014 and 2015. He became the World Champion on parallel bars at the 2015 World Championships.
The rest, though didn't win any medals, also performed very well, including Ai Yanhan and Zhang Yuan got the 4th place in the final of the 4 × 200m freestyle relay, Lv Huihui won the 7th Place in the javelin, Wang Shuang and Liu Wei became the first representatives of Hubei province in the olympic football and boxing, etc. For sure, Hubei athletes will bring us more surprises four years later in Tokyo.