On May 31, the tram "Chedu Gongjiang," which means craftsmen of the automobile capital, rolled onto the Greater Hanyang tram line. This is the first modern tram line in Central China. More than 100 passengers were onboard to experience the test ride. It is also the first modern tram line in China to be powered by a contactless network that will seamlessly connect with the metro line. The line will open to traffic by the end of this year.
Tram trains equipped with super capacitor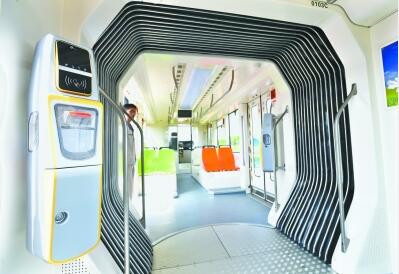 Card reader system located at the joint area of the compartments
According to Huang Qibin, general designer of the modern tram in the Greater Hangyang area, instead of having traditional "pigtails" and antenna, this new tram uses an independently developed and advanced technology – super capacitive energy storage. The power supply will be realized through its onboard super capacitive energy storage elements.
The stations for the tram line have much in common with those of the light rail, except for an extra "antenna" on top of the platform. After the tram pulls in, during the period when the passengers get on or off the tram, the onboard equipment can automatically connect to the "antenna" for charging. The required charging time is as little as 10 to 30 seconds. The tram can then run for three to four kilometers after one charge.
Capacity of 400 passengers
The "Chedu Gongjiang" tram measures 36 meters in length and 2.65 meters in width. It is composed of four compartments plus one locomotive on each end. Each compartment is equipped with 60 seats, and the tram can hold up to 400 passengers. Riders can pay with their bus cards or with cash.
The tram is a 100% low-floor vehicle, so that passengers requiring wheelchairs can get on or off the tram without difficulties.
Connecting to Line 3
The tram line is 16.8 kilometers long with 23 stations. It starts at Guanlianhu Road of the WEDZ, passing through Fenghuang Avenue, Zhushan Road (No.2), Quanli Road (No.3), Houguanhu Avenue, Checheng Road (W.), Zhuanyang Avenue, and finally at Chelun Square, where it connects with Metro Line 3.
 The total investment for the project is approximately RMB 2.6 billion.
Costing 1/5 of the Metro
The "Chedu Gongjiang" tram is capable of running at a top speed of 70km/h.
Trams are considered the epitome for economic development and advancement of social civilization. The cost of building a kilometer of modern tram rail is one-fifth that of the metro and one-third that of the light rail. The construction period is only six to 12 months, which is one-fifth the period of time required for the metro.