Imagine casually taking a walk in Wuhan. You see small grocery shops, noddle shop with red plastic chairs outside and some construction work nearby (the usual). But then all of a sudden theres a blue-light shining from a bar with 24 beer options ON TAP from all over the world! "WTF?" That's what I said when my friends invited me for a 24 beer challenge! (P.S. You're invited too! Check the bottom of this article)
Have you tried "Belching Beaver Hazers Gonna Haze"? No? How about 85 RMB/pint beer as strong as 13.5%? No? 
Meet Alec, an American guy selling craft beer in Wuhan and Brittany…well she likes beer as much as beer likes her.
Brittany: "I like it! May I have another cup?"
Me: "NO ! You have 23 more to go!"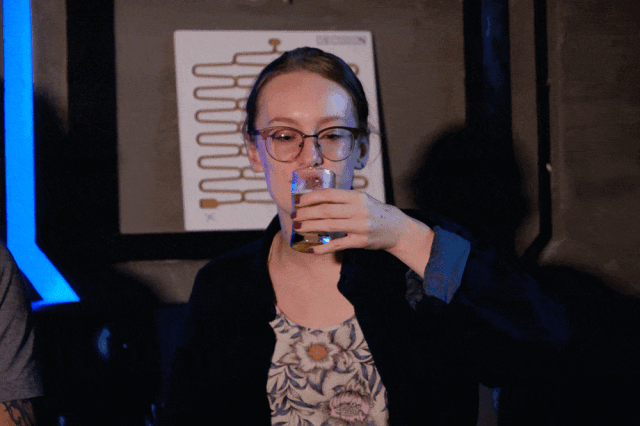 Even tho we're familiar with the beer scene in Wuhan and the options available, Derby surprised us with beers that we've never heard of.
Editorial teammates Nick and David joined to try some of these unheard of beers too!
Halfway through the beer rounds we had to take a break

To finish the rest of the beer we came up with wonderful idea – drinking games! Originally Billiards isn't a drinking game but we were able to improvise!
"Let's play pool! The winner gets MORE beer! 
Too drunk for pool? No problem – let's play arcade games! Just keep pressing the buttons even you don't know what they do.
Move, jump, hit or shield?
Most bars in China has a cup with dice. Unfortunately we hate to think so we came up with a better game – shake the cup. If you get #1 put on the top of the tower! If you get rid of all dice under your cup – you win a beer! If you drop the tower, you lose – drink some beer!
…
Have you heard of "King's Cup"? 
The challenge just became more challenging: little bit of drama, arguments and long discussions were unavoidable.
Tangerine, hawthorn, plums and "Three Spices Kettle Sour". Some of the beers we tried were so sour we couldn't stand it! If you're passionate about American Ale, this is your next challenge!

Similarly, Alec and Brittany agreed that the "Belching Beaver Shaking Hands IPA" is really good. Its taste is as cute as its name. The fruity flavor from the West Coast is irresistible. Grab a cup…& another…& another…
A few drinks later David & Alec were playing with the furniture.
And this doesn't stop us from taking some beer home
Now, I challenge you!